One of my current projects is a review site for a niche market – event companies in South Africa. It's a tiny market in global terms, but there are a couple of hundred companies working in the industry. When business confidence starts to drop, the big corporates tend to spend more on advertising and events like product launches (at least they should be…)
I've been surveying websites in this niche for my review site. So far, I've tested 28 of the sites on my list, favoring the larger companies and the ones I'm most familiar with.
I was struck by how generally awful they are from a marketing perspective. Splash pages and Flash-based navigation are more common than one would expect. Most of the sites are inwardly focused – "So-and-So Productions has been in operation since 1996, when Algernon So-and-So came up with the vision to create the most fabulous production company in the world" – rather than focusing on what the potential client wants. Only a couple have a newsletter of any kind; I found exactly one site with a blog (on Blogger.com, so really not much use for search engine ranking).
Checking the search engine optimization with one of the tools I use (the Domain Tools SEO Score tool) shows 7 sites out of 28 with an SEO score better than 80%, and 8 sites out of 28 with a score of 0% – usually because there's no text on the home page, because it's Flash-based.
In South Africa, due to parastatal inefficiencies, Internet access has always been expensive and slow. Only about 11% of the population has Internet access – that's about 5 million people. Because of this, small businesses don't take the Internet seriously. The fact that these businesses don't get many customers from the Internet means that their websites can be 'vanity sites' or brochure sites, just the same as all the others.
Still, there's no excuse for having a website which is, to all intents and purposes, invisible to the search engines. I blame the web designers. Even if the client insists on a site with nothing but crossfading pictures, you can still add at least a meta description and a keyword-optimized page title.
Here's my favorite "invisible to the search engines" site (to think I worked there 25 years ago… )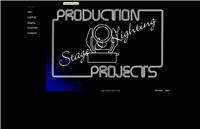 To be fair, this site is first on Google for the company name. That doesn't help if your potential clients have never heard of you…
Tags:
business confidence
,
corporates
,
marketing
,
niche market
,
search engine optimization
,
search engines
,
SEO
,
small businesses
,
South Africa
,
web designers